BDA Architecture and Planning, P.C. (BDA) is dedicated to socially responsive and supportive affordable housing in all its forms. Our expertise is in the design and development of service-enriched affordable housing, from temporary shelters to transitional and permanent housing.  We are proud to support the vision and needs of our mission-based clients who bring affordable housing and related services to the communities they serve.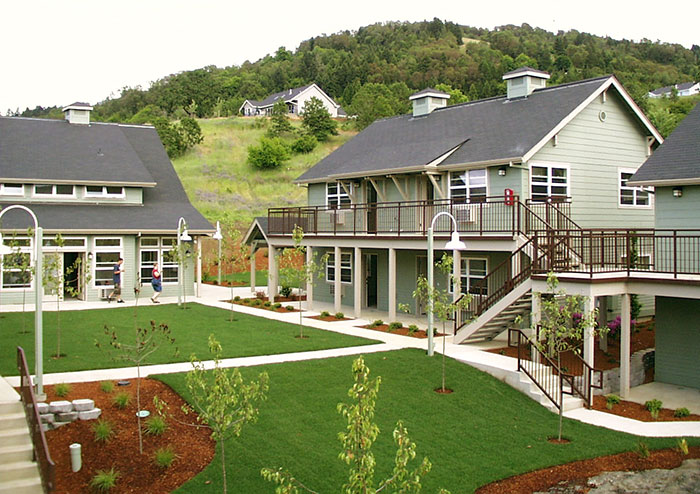 With a client base from all regions of Oregon and projects in over 30 cities, BDA has designed new affordable housing or supported the rehabilitation of older projects in rural communities, suburban neighborhoods and urban centers. We've designed buildings solely focused on housing and those that also include services and mixed-use solutions with commercial space on the ground floor. Nearly every possible typology is represented in the firm's project history; everything from a single tiny home to 120 units across 2 sites, duplexes, townhouses, 3 story "woody walkups", and 5 story urban buildings.
We have partnered with mission-driven clients committed to providing affordable housing options for families and our workforce, as well as many special needs groups including homeless veterans, adults living with intellectual and developmental disabilities, people with conviction histories, persons living with severe and persistent mental illness, seniors, and individuals who have experienced chronic homelessness.
Over the last 20 years, BDA's projects include over 1600 units with over $200M in construction costs. We are extremely proud that these projects have provided safe and stable housing for an estimated 25,000 individuals across the state of Oregon
Permanent Supportive Housing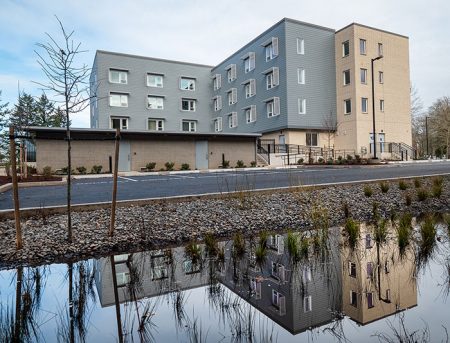 Several of our most recent projects have been made possible by Oregon's legislative and funding commitment to prioritize development of Permanent Supportive Housing to address the needs of chronically homeless people. These projects are operated with a Housing First and Trauma-Informed Care approach and BDA has incorporated Trauma-Informed Design patterns into these projects to promote a sense of safety and security for both residents and the staff that support them. These projects exemplify an evidence-based best practice that combines affordable housing with voluntary support services that are designed to build independent living and tenancy skills and connect people with community-based health care, treatment and employment services all at the place where they live.
Almost half of BDA's affordable housing projects could be identified as family housing, and many include services for the unique needs of families. Family Housing always includes a wide variety of design consideration such as open space, playgrounds, community gardens, and hardscape for variety of activities. Community centers provide a place for families to come together and take advantage of activities, space and support services provided. A family may come to a community center several times in one day. In the morning young children are dropped off at day care, a load of laundry is done, a parent can meet with a case worker privately to advocate for their family's needs and in the evening, they may join others to watch a family movie or participate in game night. A beautiful place to live and near-by support is helpful, but only if a family feels safe. BDA always balances the need for privacy of tenants with the need to create a safe environment with an "eyes on the street" approach to design.
The unit designs support the particular needs of family life. Now, more so than ever, family units need to have a flexible design that supports ease of living, working and sleeping together. Each unit allows for family meals to be shared and also provides creative storage for bikes, toys, linens and more. This creates functional space that everyone in the family can enjoy.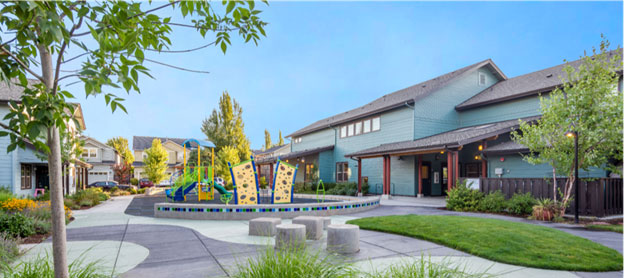 Our work in both urban and rural areas, in new construction and rehabilitations throughout Oregon has familiarized us with the requirements of a variety of funding sources, most commonly HUD, USDA Rural Development, Oregon Housing and Community Services (OHCS), Low-Income Housing Tax Credit (LIHTC) programs, and HOME funds administered through local jurisdictions. We also understand and expect that every project is often made possible through a complicated and sometimes unique combination of major and minor funding sources and are accustomed to adapting to the ever-evolving requirements imposed on our projects by these entities.
BDA understands that each client, end-user and site is unique. We strive to create solutions with our clients that address the specific characteristics of their project, whether it is a complex mix of funding sources, a specific resident population, a physically challenging site or a fearful neighborhood association.
We act with integrity and strongly believe that everyone on the team deserves honest, kind and respectful communications. Our teams are proud to create special and needed housing in local communities and that makes it easy to build warm and meaningful relationships along the way.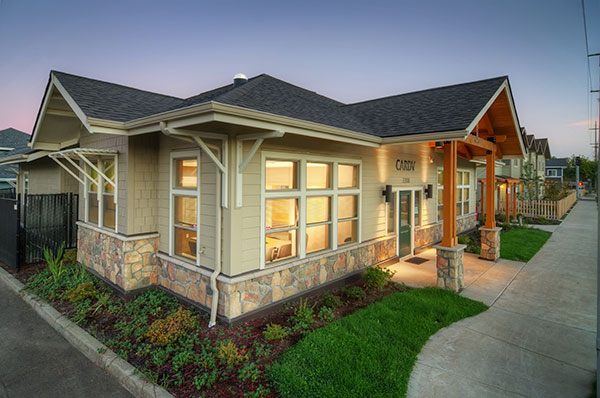 BDA works with many service-oriented clients who prioritize service delivery and housing to those in need over a long period of time. Because of this, BDA seeks at the beginning of each project to understand the unique programing needs of our clients while also understanding budget and site considerations.
BDA is familiar with the unique challenges presented by affordable multi-family housing. Ample daylight, fresh air, ventilation, and structural efficiency are all aspects of the building design that require extra attention. While the dwelling units themselves should be bright and spacious feeling, we also pay special attention to the quality of the parts of the building that often get forgotten. Corridors, stairways, and small seating areas at elevators are more than just elements necessary to moving through the building. They are all part of the residents' everyday experience, and we seek to make that experience as delightful as we can.
We know that most affordable housing projects generate interest from the future neighbors and community groups. BDA welcomes the opportunity to join our owners in community outreach and discussions with neighborhood groups. In addition to talking to members of the greater community, we value input from various project stakeholders and enjoy having design discussions with property managers and service providers. We advocate for hearing multiple voices during schematic design so that we avoid designing spaces that don't meet the needs of the people running and maintaining the end product.
Some of the most important players in the development process are the local land use and transportation planners, public works engineers, fire marshals and building officials who are in charge of implementing the land use code, local development policies and building codes. Although these individuals are not "official" members of the development team, we regard all of these people as potential problem solvers, allies and valuable resources for the design and execution of a project. From the very first discussion with city planning and development staff early in schematic design, we seek to build a collaborative relationship with our local officials that ensures that we are all working together to build an efficient path through the entitlement process.
BDA is fortunate to work with mission-driven clients who provide services to those in need within the communities they serve. We are proud of our relationships that have lasted decades, and look forward to continued collaboration to meet our client's goals.
We know our clients will be well-served when BDA is on our projects. They are fully engaged, bringing great design and creative solutions from early in preconstruction until project completion. They are smart, engaged, responsive, and exceptional collaborators focused on what's best for the project and the client. We highly recommend BDA Architecture and Planning, P.C.
From the very beginning of a project BDA bring a deep understanding of affordable housing design to bear but work closely with the owner to understand the needs of future residents of the housing.
We have had the distinct pleasure of working with BDA on a number of cutting-edge low-income housing projects. These projects serve as affordable housing models in our community and beyond. They are leaders in the field who have a commitment to the creation of beautifully designed, quality-built projects that are client-centered. The BDA team has deep and nuanced understanding of local codes and state requirements for the construction of affordable housing using LIHTCs. As a team, they are responsive to the needs of their clients and have a real commitment to the projects they undertake.
The BDA team are friendly, fun and just good people to work with which makes each job enjoyable. It is clear that the projects are not just a job for them but a way of life. As affordable housing is their specialty, they are very familiar with OHCS and other requirements that come from a variety of funding sources. They are very conscious of balancing budget with the need to create attractive housing that will stand the test of time.
BDA are leaders in the field of affordable housing design.
BDA thoroughly understand the design needs of low-income residents; the complexities and implications for owners when using affordable housing financing; the importance of accurate code analysis for the project budget; and, how to resolve issues during construction while respecting the budget.
Without hesitation, I recommend BDA for architectural services for any affordable housing project.
BDA genuinely shared our commitment to the project and helped foster the same commitment with the rest of the team.
Our firm has worked with BDA Architecture and Planning on close to 100 projects over the last thirty years. BDA's design is innovative, timely, and accurate. They collaborate beautifully with project team members and are quick to work through solutions at the jobsite. They genuinely love what they do and they're an absolute pleasure to work with. BDA would be a great addition to your project team.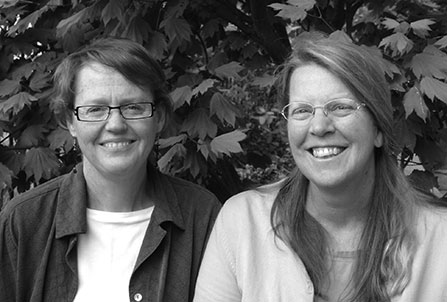 Bergsund DeLaney Architecture and Planning changed our name to BDA Architecture and Planning (BDA) following the retirement of the firm founders, Sara Bergsund (2020) and Anne DeLaney (2019). Founded in 1995, Sara and Anne carefully and intentionally built and nurtured this firm to create socially and environmentally responsive regional architecture that is respectful of the past, responsive to the present and enduring for the future. They passed the leadership of their firm to Mike Magee and Amanda Donofrio, who spent over a decade working with Sara and Anne on affordable housing at Bergsund DeLaney. Amanda and Mike are committed to the vision, relationships and the wonderful reputation that Sara and Anne established over the last 25 years. We wish them years of happiness, health and adventure.